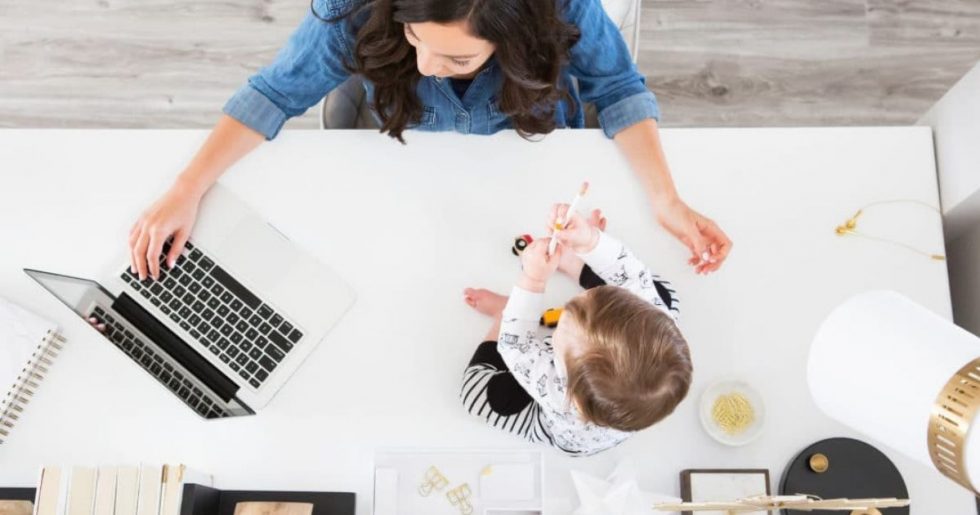 10 Work From Home Ideas for Stay-at-Home Mom (or Dad)
If you are a stay-at-home mom (or dad) just like me, and hoping to kick start an entrepreneurial dream or simply looking to bring in some extra income by working from home, here are some ideas for you.
(Along with this post, I have a free resource for you. You will find out what are the 9 tricks and tips to save time and effort when looking for work from home options. Many stay-at-home moms or dads find it helpful. To get your free resource, simply click the pink banner below to send us a Facebook Message, type "free download 2" in your message.)

10 Work From Home Ideas for Stay-at-Home Mom (or Dad)
Most stay-at-home moms or dads are highly educated and are having their own skill sets. Why not use it to start earning from home? Here is some work from home ideas from stay-at-home moms and dads.
1. Freelancing
You can start freelancing with whatever skills you are having. It could be writing, web design, marketing, tax advisor, photography and many more. Think creatively or find out what is your passion, and that could be your freelancing options.  Freelancing is ideal for many people due to its' flexibility and freedom, and it can be started with little cost or paperwork.
You can get started by approaching your former employer or customer who could benefit from your services, then branch out as your reputation grows. Alternatively, you may also get started through freelancer platforms such as Fiverr, Freelancer, Upwork and many more.
Freelancing does have its challenges and requires discipline – you are running a business after all. One disadvantage of freelancing is that you still have deadline commitment despite the time flexibility you are having. Most of the time, your freelancing required a lot of your time and focus to bring in the active income. In most cases, freelancing will not be able to generate passive income.
2. Make Money from Blogging
Yes, you can make money by blogging. I follow several stay-at-home moms who happen to be fashion and style bloggers – and it's their business. If you can write and have a passion for a specific topic or hobby that you know will attract some attention, then this might be for you. You can start blogging by using Blogger. If you are more advance, you can even use WordPress as it offers more features and plugins.
How to generate income through your blog? It can be from affiliate marketing and advertising on your website, or from companies who ask you to review and blog about their products.
The only challenge is you need to look for ways to generate online traffic to your website through social media, search engine optimization, email marketing and buy traffic.
3. Become a Virtual Assistant
Virtual assistants (VAs) provide a wide range of "virtual" services to other businesses including administrative, marketing and technical support from a home office. My business mentor, for example, uses a VA to answer his calls, reply to email and manage his calendar while he's busy in creating more entrepreneurial projects. As many firms start to cut costs and outsource administrative functions, VAs are growing in popularity nowadays. If you are organized and have an administrative background, this might be for you. Similar to freelancing, you can always start with your former employer or your own connections. And of course, in most cases, this will not be able to generate passive income too.
4. Wedding Planner or Bridal Consultant
Couples are marrying later than ever, after having spent years as working singles, getting advanced degrees, or living together. They have the funds to splurge on lavish weddings. This means great earning potential for wedding planners. You will need a working knowledge of what goes into planning a wedding, including resources and price ranges for everything from invitations to musicians.
The only challenge is this is a very time-consuming job and you need to be patient in handling customer service issues because most couples would probably make many requests wanting the best outcome for their wedding.
5. Start a Creative Business
I have friends that are making handmade soap and birthday cards for sales. Some of my friends are offering interior design consultation services. If you have a creative streak and the room to store and create, then why not consider making money out of your talents? Your job now is to get to know the market and do some planning to identify an untapped niche.
While it can be fulfilling doing what you like, the active income can be relatively low and not in proportion to the amount of time being spent.
6. Start a Home-Based Bakery or Food Business
Many stay-at-home-moms are passionate about cooking and bakery. If this is your passion too, why not turn it into your part-time business? This is an active income business that requires your time and effort. If you are not looking into generating passive income, then this can be a good option for you.
7. Becoming a Baby Sitter or Nanny

While staying at home taking care of your own kids, why not consider becoming a babysitter or nanny? This business offers a potentially lucrative and long-lasting business opportunity. A home environment is often appealing to parents and once their kids are settled (and assuming you are doing a great job), then it's likely you'll have that business until they are old enough not to need care.
The only challenge is you need to have good physical strength and time management to handle the different needs and attention of each kid you are taking care of.
8. Becoming a Music Teacher
Music is an important part of early childhood development. Market your musical skills at daycares, kindergartens and preschools. Call day-care directors, school principals and teachers. Sometimes you may have to schedule a free first performance to get paid for ensuing performances. They like to see how the kids interact with your music before scheduling you on a regular basis.
9. Start an Online Marketplace Store
If you have clutter that you want to get rid of and like the idea of selling products to an established worldwide network of consumers, consider starting a business on eBay, Etsy or Amazon. You can source products to sell from junk/yard sales or charity shops.
10. Start Your Own Network Marketing Organization

If you like the idea of building long term lucrative passive income, you can start with building your own network marketing organization. While this is home-based with relatively low cost, the business can be expanded worldwide. Most of the network marketing company provides a set of marketing tools and free coaching to help you get started.
The time and location are totally flexible, and the best part is that you do not have deadline commitments like freelancing.
Make sure to choose the right company that is having solid good products because this is very crucial to help you sustain your income. Be very careful not to involve in an illegal pyramid scheme. You may read my blog here to understand the difference between a legitimate network marketing business vs illegal pyramid scheme.
Personally, I like this business model the most because it is low cost with scale-able income compared with other business models. You may click the blue banner below to find out 9 important criteria in choosing your home-based business model as your side hustle.
If you like to build long term lucrative passive income with network marketing, make sure to choose the right company that is having solid good products. #workfromhome #homebusinesstips #stayathomemom #stayathomedad #networkmarketing
Click To Tweet

---
Check out the resources below that will help you start a work from home & healthy lifestyle:
1. Work From Home – Learn More Here
We provide online tools, systems, coaching and support to those that appreciate the benefits of working from home. Find out more if you are considering working from home.
2. Business & Lifestyle Community – Come Join Us Here
Here, we learn from each other how to work from home, without neglecting our overall well-being through daily mental, spiritual, beauty & wellness care.
3. Motivational Gallery – Click Here
I compile some useful motivational quotes to help you change the way you see things and inspire you to move on in life. You can easily save the images on your Pinterest board or on your mobile.
You may follow me here: Facebook | Twitter | Instagram | Pinterest
Someone else might need these simple tips. If you find this is helpful, simply share with your friends and comment below. I would like to hear from you.