How To Differentiate Between Legitimate Network Marketing vs Pyramid Scheme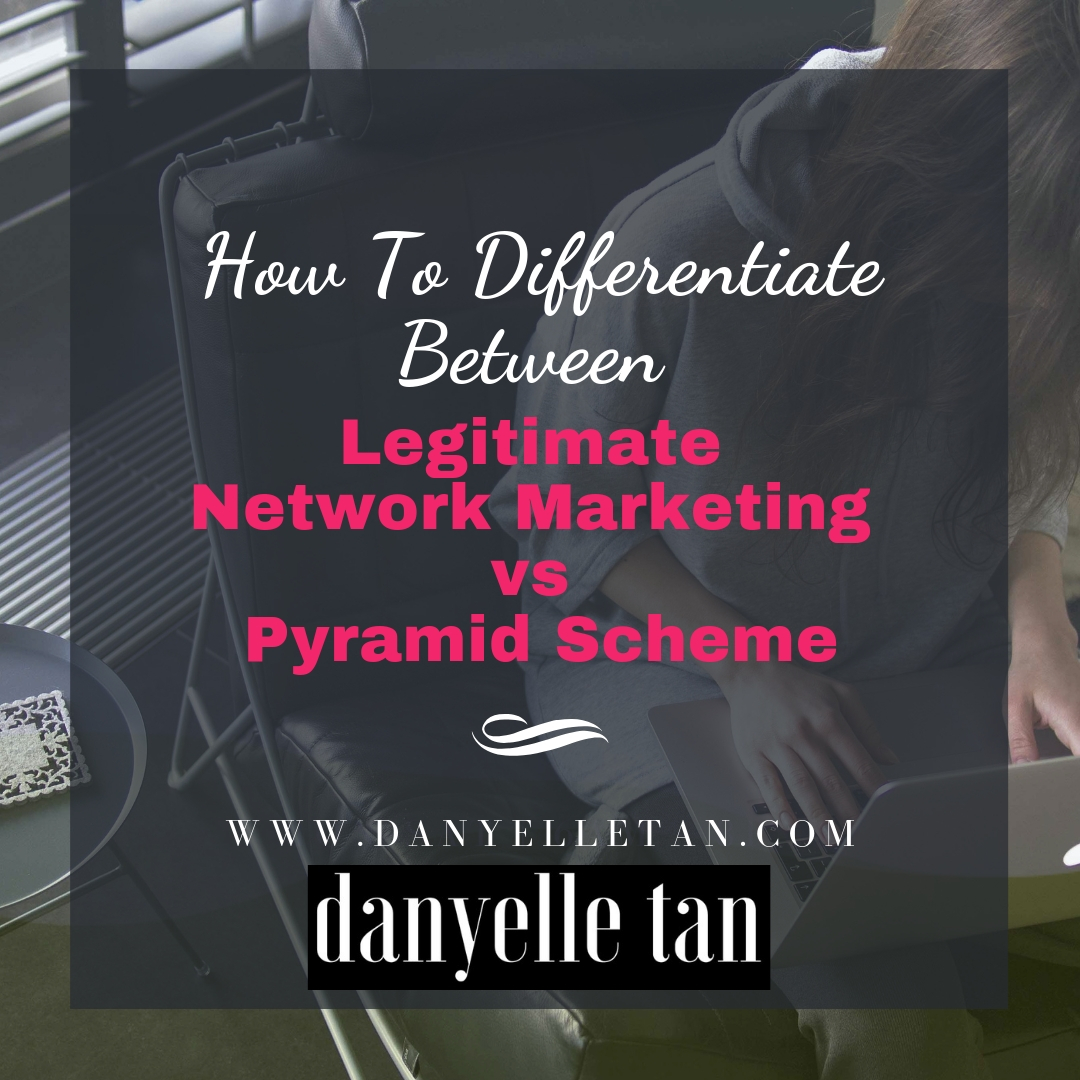 There are many work from home businesses you can do to make income from home, one of them is through a network marketing platform. Many people are confused between the legitimate network marketing business and the pyramid scheme.
(Along with this post, I attached a free resource for you to download. This is a quick checklist to help you identify if the opportunity you are considering now a legitimate network marketing or a pyramid scheme. To get your free resource, simply click the pink banner below to send us a Facebook Message, type "free download 3" in your message.)
Here is a quick guideline to help you differentiate between the two so that you can make a wise decision of which company to participate:
Legitimate Network Marketing
Legitimate network marketing companies (also widely known as multilevel marketing) are selling competitive and high-quality products/services that provide a sustainable source of income to their distributors/sellers. Below are some criteria of a legitimate network marketing business:
Provide accurate information about the company, its products and what one can expect as a seller of the company's products and services.

Charge a nominal fee for a starter kit – the median cost for the start-up kit is $99 and usually includes items such as samples, catalogs, order forms and other tools (including competent online tools) that help the seller begin selling.

Have a product/service that is competitive in the marketplace and is purchased by the ultimate user.

Require sellers to hold little or no inventory and has a buyback policy to protect against inventory loading.

Promote consumer protection and guarantees. Many of these are voluntary standards that exceed the requirements of any regulations created by the Federal Trade Commission (FTC) or mandated by federal or state law.

Base compensation primarily on the sale of products and services to the ultimate user. Compensation can be generated from either your own sales or the sales of others you have recruited.

Take time to describe the business and give potential sellers adequate time to make a decision – any opportunity worth having will be there tomorrow.

Preferably also a registered member of DSA that is pledged to abide by a strict Code of Ethics that outlines a high set of standards for interactions with both sellers and customers.
Legitimate network marketing companies are selling competitive and high-quality products/services that provide a sustainable source of income. #networkmarketing #legitimatebusiness #workfromhome #homebusiness
Click To Tweet

Pyramid Schemes
Pyramid schemes take advantage of and defraud people because they:
Promise large earnings with little effort.

Promise that one can earn a substantial income merely for recruiting people into the operation.

May or may not be a "product" to sell, but if there is it generally has little or no actual value (aka low-quality products)

Convince people to buy large amounts of inventory which they cannot easily sell to others and is not returnable (this is called "inventory loading").

Charge large up-front fees to get involved, with no high-quality products in return. Promoters of pyramid schemes will also try to pressure people to sign up immediately by suggesting the same opportunity will not be available later.

Base compensation primarily on activity (these payments for recruitment are called "headhunting fees"). Participants are convinced to pay to get involved with the promise of receiving "headhunting fees" when they recruit others.
In a pyramid scheme, money from new participants is used to pay recruiting commissions (that may take any form, including the form of securities) to earlier participants just like how, in classic Ponzi schemes, money from new investors is used to pay fake "profits" to earlier investors.
I hope the above explanation will help you better to differentiate between legitimate network marketing business and pyramid scheme.
In a pyramid scheme, money from new participants is used to pay recruiting commissions to earlier participants. #pyramidscheme #workfromhome
Click To Tweet
If you are not sure if starting a home business is the right choice for you, or maybe, you are not sure how to choose the right home business, don't worry.
I have these simple tips and a quick checklist to help you.
To get these free guides, go to the Freebies Page.
(Photo by Daria Nepriakhina on Unsplash)
---
Check out the resources below that will help you start a work from home & healthy lifestyle:
1. Work From Home – Learn More Here
We provide online tools, systems, coaching and support to those that appreciate the benefits of working from home. Find out more if you are considering working from home.
2. Motivational Gallery – Click Here
I compile some useful motivational quotes to help you change the way you see things and inspire you to move on in life. You can easily save the images on your Pinterest board or on your mobile.
You may follow me here: Facebook | Twitter | Instagram 
Someone else might need these simple tips. If you find this is helpful, simply share with your friends and comment below. I would like to hear from you.